WMS will be exhibiting at the Birmingham NEC Care Show 22-23 June 2011
Tuesday, 5 April 2011
WMS will be exhibiting at the Birmingham NEC Care Show 22-23 June 2011 - Visit us on Stand B34.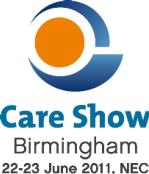 The Care show is solely dedicated to the Healthcare Sector. It brings together the industry and gives owners and managers the opportunity to find new suppliers, catch up with all the latest issues and pick up tips and innovative ideas from industry experts to take back to your business.
Care Show Birmingham, NEC Birmingham, 22-23 June 2011
For FREE tickets and further details contact us
To be kept up to date with our latest news, product offers and industry insight please add your name and email address below. If you change your mind about receiving our email newsletters you can instantly unsubscribe by using the unsubscribe link in the email. Thank you.