EMCARE Champagne Winner
Tuesday, 12 October 2010
As part of WMS's 25 year celebrations at the annual East Midland Care Association conference, a bottle of Veuve Clicquot champagne was won by Kath Stanner. Kath came closest to guessing the amount of WMS "fuzzy faces" on the WMS exhibition stand.
Kath is seen in the picture below being presented with her champagne by Simon Titley of WMS.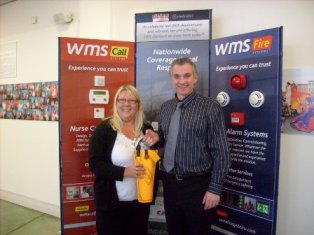 To be kept up to date with our latest news, product offers and industry insight please add your name and email address below. If you change your mind about receiving our email newsletters you can instantly unsubscribe by using the unsubscribe link in the email. Thank you.