Staff Safety

The increasing hostility encountered in the workplace environment places employees at risk and affects staff morale. WMS are able to design, install and commission the ultimate in personal protection systems – Guardian – to protect all your staff members.
The system has been designed to be as unobtrusive as possible, each member of staff wears the Guardian Personal Trigger on the belt; the system has two levels of call "Assistance" and "Attack". In the event of an "attack" the Trigger is pulled from the retaining clip, sending out continuous attack signals to Receiver Units located throughout the areas covered by the system. These units transmit to Attack Display Units that sound the alarm and identify the exact location of the incident and the personnel involved in full alphanumeric text.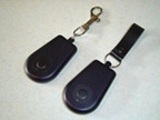 Every workplace is different and Guardian is easily adapted to your environment. Options, such as the silent mode to prevent alarms aggravating critical situations, or zoning in areas so that only local incidents are displayed, enables Guardian to work with you and in your best interests.

Any attack system has to be totally reliable to ensure your staff has complete confidence in the protection you are providing. Guardian utilises a combination of advanced Infra Red and Radio Technology, ensuring that whatever your staffs location, either inside the building or outside in a car park, courtyard or garden, their call will be received.
To discuss your Staff Safety requirements, click here.